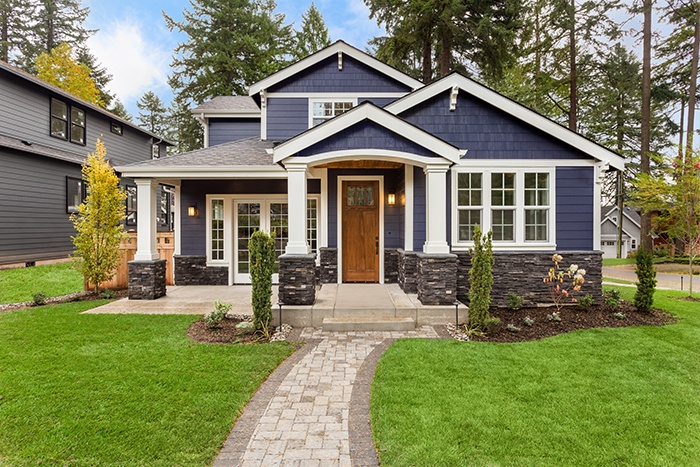 It's a question usually everyone asks at some point in their life: when is the right time to buy a home? Is renting better than buying?
This is a tough question that takes more than just looking at what you can afford for a mortgage payment to answer. There are pros and cons to both options. Ultimately, it depends on your financial situation, long-term plans and the real estate market. But if you're trying to decide which is best for you, answering these five questions should help!
1. WHAT CAN YOU AFFORD AND HOW MUCH SAVINGS DO YOU HAVE?
Houses come in all shapes, sizes and price points. Before thinking about purchasing a home, it's important to evaluate your budget to see what you can afford as a monthly mortgage payment. Most lenders recommend that monthly housing expenses stay between 25-35% of your take home pay (and that's for rent OR a house payment).
Your savings is important too. Do you have an emergency fund? Are you able to make a down payment? Most lenders recommend saving 20% for a down payment to avoid private mortgage insurance (PMI). However, depending on where you get your home loan, some institutions have no PMI options available, even if you don't have the 20% down payment saved.
2. WHAT IS YOUR CREDIT SCORE?
Your credit score is one of the biggest indicators of the overall health of your finances. It is also a qualifier used by financial institutions to see what type of home loan and rate you can receive. Credit scores are easy to check, and scores in good standing can help you get pre-approved for a loan before you begin your house hunt.
Not sure what your score is? That's okay! If you're a Member with us, you can login to online banking or the mobile app to view your credit score for free! If you are the primary account holder, it's a great and easy way to be able to check your credit score. For more information, visit tvacreditunion.com/credit-score. You can also visit annualcreditreport.com to receive a free copy of your credit report each year.
3. HOW LONG DO YOU PLAN TO STAY IN THE HOME?
If you plan on moving soon or have a job that requires relocating periodically, renting may be your best bet. Owning a home can provide additional stability and it gives you the ability to customize your space. However, it's not always the best option for people seeking flexibility. You want to be in your home long enough to have equity built into it, which generally takes a few years. But if you're looking to put down deep roots with plans to stay, then it might be the right time to begin the house hunt.
4. DO YOU WANT TO BE RESPONSIBLE FOR REPAIRS AND MAINTENANCE?
While this may seem like a small detail in the grand scheme of things, it is important to think about. As a homeowner you are responsible for your own repairs and maintenance. The average estimate for repairs and maintenance typically costs between 1-2% of your home's value. Depending on the age of your home and how well it's been maintained could greatly affect this estimate. While with renting, repairs and maintenance are usually taken care of by the landlord. This shouldn't be the main deciding factor in whether you rent or buy, but it's definitely worth taking into consideration.
5. WHAT ARE YOUR LIFE GOALS?
Owning a home can be a great milestone! But purchasing one should line up with career, financial and family goals. After all, a house needs to fit into your time table!
Purchasing a home is a big investment. Evaluating where you want to be and what season of life you're in will help determine whether purchasing a home or renting is best for you. But remember that you're not alone in this process. If you have any questions about the home loan process or are wondering what you need to do to get started, our home loan officers are happy to help. They can help get you on the right path to home ownership—whether that's now or later! For more information, visit tvacreditunion.com/homeloans or call our Real Estate Lending team to speak with a local home loan officer today at (865) 544-5409.